Medication Error Lawyer in Orange County
Contact Us at
(949) 565-4281

If You've Been Harmed

When medication errors occur, a patient can potentially suffer life-threatening or fatal effects depending on his or her age, illness, allergies, the strength of the medication, and more. Unfortunately, these errors occur too frequently. According to research, roughly 7,000 Americans suffer fatal injuries each year due to medication errors alone.

Many medication errors occur due to:
Fatigued medical staff members
Careless medical staff members
Poor communication between medical staff members and pharmacists
Poor communication between medical staff members
Poor communication between patients and medical professionals
Illegible handwriting on a hand-written prescription
If you have suffered harm or the loss of a loved one due to a medication error, it is important to seek legal counsel by contacting our Orange County medication malpractice lawyers at the Law Office of Marshall Silberberg. We have successfully recovered more than $500,000,000.00 on behalf of injured victims and are ready to stand by your side.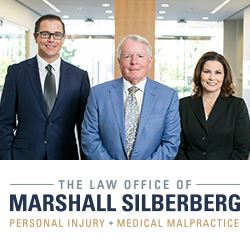 Get in touch with our legal team today!
Common Types of Medication Errors
All medication errors, regardless of the types of medications involved, can significantly and negatively alter a patient's life. These errors may occur in different ways, including:
Improper dosage: A patient can suffer extreme detriment due to a deficient or excessive medication dosage.
Wrong medications: If a patient is administered the incorrect medication, he or she can suffer extreme or fatal injuries, especially if he or she suffers from a severe allergy. This often occurs when medical professionals do not pay close attention to their patients' medical histories.
Mixing medications: In some cases, medical professionals do not consider the way specific medications can react when mixed with others. However, mixing medications can lead to severe adverse effects.
Failure to consider a patient's medical history: When healthcare providers fail to examine a patient's medical history, they can miss crucial information about a patient's allergies. If the patient suffers from serious allergies, one dose of the wrong medication could be deadly.
Contact Our Firm Today for a Free Consultation
At the Law Office of Marshall Silberberg, our legal team understands the hardships that come as the result of medication errors. Backed by ample experience, our firm stands ready to pursue maximum monetary compensation for any medical expenses, emotional distresses, and lost wages you may have acquired as a result of a medical professional's negligence. We invite you to contact our Orange County medication error attorneys for more information on your rights and legal options.
Do not wait to retain the legal advocacy you need. Call the Law Office of Marshall Silberberg today! We have handled numerous medical malpractice cases.