Orange County Brain Injury Attorneys
We've Recovered More Than $500 Million for Clients, Including TBI Victims - Call
(949) 565-4281
If you or a family member has suffered a concussion, hypoxic/anoxic brain damage, or other type of brain injury that was caused by the negligence of another party, you need to get proper medical care and talk to a lawyer about your rights as soon as possible.
Brain injuries cause permanent, debilitating injuries that may never fully recover. In order to regain some semblance of your life back, it's essential that you receive quality medical treatment and therapy; but those costs can add up quickly.
The Orange County brain injury attorneys at the Law Office of Marshall Silberberg are here to fight for every penny of compensation you deserve. All three members of our firm have been recognized by Southern California Super Lawyers for their excellence in personal injury law. In fact, Attorney Marshall Silberberg has been listed as one of the top attorneys in Southern California every year since 2004.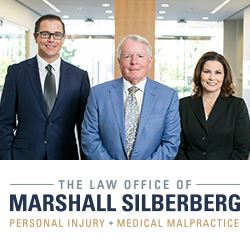 Call (949) 565-4281 to begin a free case evaluation with a brain injury lawyer in Orange County.
Types of Brain Injury Cases We Represent
If the negligent or reckless actions of another person caused you to suffer a brain injury, our firm is ready to help. We represent clients who have suffered both traumatic and non-traumatic types of brain injuries:
Traumatic brain injuries: these are caused by a sharp, heavy blow to the head.
Non-traumatic brain injuries: these are caused by oxygen deprivation, exposure to toxic chemicals, and in some cases, infection.
Traumatic brain injuries are commonly caused by motor vehicle accidents, sports injuries, and falls.
Non-traumatic brain injuries can be caused by drowning accidents, birth injuries, and medical malpractice.
Recovering Compensation for Brain Injury Victims
Our brain injury attorneys in Orange County understand the issues facing clients and their families when dealing with brain damage and the ensuing life changes.
We understand how to fight for your compensation, including:
Medical expenses, including future medical expenses
Rehabilitation expenses
Trauma and therapy
Lost wages, including lost future wages
Lost quality of life
It may seem impossible to put a dollar value on the lost quality of life, but we employ experts such as home economists, forensic experts and others who can gain an estimate of the financial impact of such a loss on you and your family.
Common Symptoms of a Brain Injury
One of the troubling things about brain injury is that you may not even be aware that you have been impacted by your head injury. Your spouse or your family may be the first ones to know.
Your family may notice the following symptoms:
They may notice a change in your behavior.
They may notice you are losing your temper more often.
They may see that you cannot control your emotions or perform your job.
These can all be symptoms of traumatic brain injury. For your own best interests, you need to investigate these symptoms and pursue your legal options.
You don't have to go through this difficult time alone. The Law Offices of Marshal Silberberg is ready to come alongside you and provide the dedicated support you need. Contact us today for a free initial consultation!