Orange County Car Accident Attorney
Helping Victims of Auto Accidents Recover Fair Compensation
According to the United States Department of Transportation, every 14 seconds, someone is injured in a car accident. The majority of these accidents are preventable and are caused by someone's negligence or carelessness. The physical and financial costs of auto accidents on victims and their families can be substantial. In times like these, it is important to have someone on your side you can trust to help you get compensated for your losses.
When the unthinkable happens, we will be there for you. Call now for a free consultation!
The Law Office of Marshall Silberberg can help you understand your rights and assist you in filing a legal claim if you have lost a loved one or suffered serious injury in a car accident. Marshall Silberberg has been protecting the interests of his clients for more than 37 years. In 2009 alone, he was able to return results of more than 30 million dollars for his injured clients.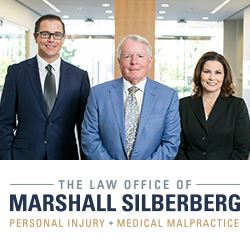 We Can Secure the Compensation You Need to Cover Your Expenses
Prior to helping the injured assert their rights, our principal attorney was an insurance defense lawyer. He knows the players in the industry, he knows how to value and assess a case, and he knows how to overcome obstacles that may stand in the way of your fair and equitable settlement.
We provide legal representation to help clients:
Repair or replace vehicles
Get medical care and any necessary surgeries
Obtain chiropractic care and other rehabilitative care
Calculate the cost of any permanent injuries with regard to lost future wages and quality of life
Call (949) 565-4281 for a free case evaluation with a skilled Orange County car accident lawyer.
How Long Do You Have to Report a Car Accident in California?
In the aftermath of a car accident, you must report the collision to the local police department. This is required in cases of injury or significant property damage
The state of California also requires that people involved in car accidents must report a collision to the Department of Motor Vehicles (DMV) within 10 days of the incident. The failure to report an accident can impact your case and your driving privileges.
Is California a No-Fault State for Car Accidents?
California is not a no-fault state. Car accident injury victims must prove the liability of another driver and file a claim with their insurance company in order to recover compensation for their damages.
California follows comparative negligence laws. In states with comparative negligence laws, it is possible for each driver to be found partially liable for a car accident. Compensation for car accident injury victims is reduced according to their degree of fault. For example, a person who is identified as 20% liable for an accident would have their compensation decreased by that amount. If their damages total $10,000, their compensation would be reduced by $2,000 and they would only be able to recover $8,000.
Causes of Car Accidents
Car accidents can happen for a number of different reasons. Negligent drivers are often to blame, but there are outside factors that can cause car accidents as well. The actions of drivers, road conditions, and the mechanical state of the vehicle can all contribute to a collision.
A car accident may be caused by:
Reckless driving
Mechanical issues
Who is Liable for My Car Accident Damages?
In most car accident cases, the negligence of a driver is liable for the damages but it is possible for multiple drivers or other parties to be at fault for a car accident. In comparative negligence states like California, it is more likely that all responsible parties will be held liable for their negligence.
A car accident can be caused by the negligence of:
One driver or multiple drivers involved in the accident
One or more drivers who were not involved in the accident (for example, if someone's reckless driving causes the accident but they drive away without colliding)
A vehicle manufacturer or mechanic
The people responsible for road maintenance
Contact Our Firm to Get Attentive, Caring Service You Deserve
Attorney Marshall Silberberg has been recognized for the quality of his legal work by many prestigious legal organizations, such as Super Lawyers Magazine and Best Lawyers in America. The firm will devote the time and attention necessary to providing you with the best possible chance at maximum compensation. The Law Office of Marshall Silberberg is not a large personal injury factory. Our firm is small firm by design and is focused on providing attentive, caring client service at every stage of a case.
We can help with the following types of motor vehicle accidents:
Rear-end accidents
T-bone accidents
Hit and run accidents
SUV rollover accidents
Uninsured/underinsured motorist accidents
We handle all cases on a contingency fee basis, meaning that our firm does not charge any attorney fees unless we recover compensation for our client. We work this way because we believe that everyone should have access to the legal system and because justice shouldn't be limited to those who can advance fees.
Contact the Law Office of Marshall Silberberg to discuss your case during a free consultation with our car accident attorneys in Orange County.