Orange County Medical Malpractice Attorney
Representation Backed by Decades of Experience
There is a word for doctor-induced death: Iatrogenic cause of death. Doctor-caused death is the third leading cause of death in the United States, with more than 250,000 deaths annually. It is unconscionable, and yet it happens every day.
If you or a loved one has been seriously harmed because of doctor, nurse or hospital error, The Law Office of Marshall Silberberg is here to help you bring those accountable to justice. We have the resources, the knowledge, and skill to successfully tackle complex medical malpractice cases - and defense insurance carriers know we will not hesitate to try a case.
How Our Firm Stands Apart
More than 200 medical malpractice trials
Over $500 million in compensation recovered for clients
A reputation as skilled litigators not afraid to go to trial
Nearly 30 years of experience defending hospitals and physicians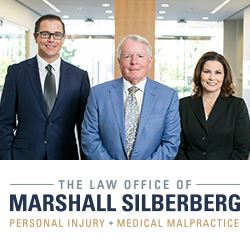 Call (949) 565-4281 to learn more about your case in a completely free case consultation. You won't pay a single attorney fee unless we win on your behalf.
What Is Medical Malpractice?
Medical malpractice occurs when medical professionals deviate from the standard of care and injure a patient. If a similarly trained professional would have handled your situation better under the same or similar circumstances, the individual in charge of your care can be held liable for your injuries.
Injuries can be the result of a negligent act or omission. This negligence might occur during diagnosis, treatment, aftercare, or health management. Medical malpractice can also occur in long-term care facilities like hospitals and nursing homes.
We've represented many clients in medical malpractice cases involving:
When you've been the victim of medical malpractice, you are entitled to legal recourse and compensation. Medical malpractice is not always straightforward, which is why you need to entrust your case to an attorney like Marshall Silberberg, who has spent years investigating and winning these types of cases.
How Much Can I Recover in a Medical Malpractice Claim?
In California, medical malpractice plaintiffs are limited by a $250,000 cap on non-economic damages. Non-economic damages account for losses like pain and suffering, diminished quality of life, and loss of consortium in wrongful death cases.
Nevertheless, you have a right to be fully compensated for economic losses, including:
The cost of your initial treatment
Subsequent medical care
Rehabilitative expenses
Long-term care
Loss of income
Changes to your earning potential
Funerary and burial costs in wrongful death lawsuits
Even with state-imposed limits, our skilled lawyers can help you maximize your verdict or settlement.
Do I Have to File My Claim Right Away?
While we encourage our clients to pursue legal assistance as soon as possible, you generally have a maximum of three years from the date of injury to file a medical malpractice claim. This, however, is case specific. For example, if you are aware of the negligence, you have no more than one year from the date of injury to file your claim.
This is due to California's statute of limitations, outlined in the California Code of Civil Procedure section 340.5. Sometimes, particularly in the case of misdiagnosis, patients do not discover their injury until long after their initial treatment. When this is the case, you have up to 1 year from the time of the discovery to file an initial claim.
If your child is under the age of 8 years of age, you have until their 8th birthday to file their claim. Otherwise, the statute applicable to adults will apply to a minor.
Other exceptions to California's statute of limitations involve:
Situations in which surgeons or medical providers unintentionally left a foreign object inside the patient
Cases where provider fraud concealed a medical mistake
Unless your case fits the unique circumstances above, you must file your claim within 3 years, or else you will lose your right to take civil action. The sooner you file a claim, the stronger your case will be.
What Are Never Events?
Sometimes, medical malpractice arises during "never events." These are especially shocking medical errors that should never occur. Unfortunately, never events happen more frequently than their name suggests.
Never events include:
Surgical or procedural events, such as wrong-limb amputations or wrong-patient surgeries
Product or device events, including contamination
Patient protection events, where patients are lost or improperly discharged
Care management events, like unsafe blood products or medication errors
Environmental events, such as electric shocks or the improper use of restraints
Radiological events, in which metallic objects are introduced into the MRI area
Criminal events, like abuse or assault
If you've been affected by a never event, you almost always have grounds for a medical malpractice lawsuit. Contact us today to discuss your case. We charge no fees unless we win!
Trust a Proven Orange County Medical Malpractice Lawyer
Attorney Marshall Silberberg and his team have earned national recognition for exceptional representation and success in medical malpractice cases. Over the years, we have demonstrated that we possess the extensive experience, professional connections and resources, and unyielding commitment needed to help clients recover the compensation they deserve in even the most complex cases. We also leverage Attorney Silberberg's 29 years as a former defense lawyer for hospitals and physicians to level the playing field between our clients and the massive corporations and insurers they face in these cases.
Medical malpractice is a difficult area of law, and our team is proud to handle these challenging claims for clients and families throughout Orange County and the state of California. Whatever your case may be, you can be confident when placing your trust in our proven firm. Our reputation and successful recovery of hundreds of millions of dollars for victims of medical negligence speaks for itself.
Call (949) 565-4281 now to arrange a free consultation with our experienced firm!