Orange County Pedestrian Accident Lawyers
Helping Injured Pedestrians Seek Justice & Fair Compensation
There are few accidents more traumatizing than pedestrian accidents – and unfortunately, statistics show that pedestrian fatalities are actually rising year after year. This alarming trend is also preventable for the most part, as the majority of pedestrian accidents are caused by vehicle driver negligence.
Cars, trucks, and even small vehicles like electric scooters can cause catastrophic injuries. If your life has been negatively impacted by someone else's negligence, our Orange County pedestrian accident attorneys at the Law Office of Marshall Silberberg are standing by to help you seek justice.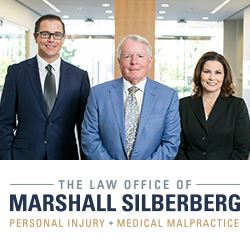 With more than 40 years of combined experience, our firm can help you seek the compensation you need. Call (949) 565-4281 today for a case review.
Common Causes of Pedestrian Accidents
While there are any number of reasons a car or other motor vehicle could injure a pedestrian, there are some common causes. More than 90 percent of pedestrian accidents occur on sunny days, and seniors and children are the most likely to be affected. This is because cars and other vehicles tend to become more careless in summer months, and they may not always be looking out for slower pedestrians.
Careless and negligent motorists often cause pedestrian accidents by:
Failing to stop at unmarked crosswalks
Using alcohol and driving under the influence
Distracted driving, either by texting or using the phone
Failing to observe traffic laws
Making an improper or hasty turn
Failing to use appropriate headlights at night
Are Pedestrians Ever Responsible for Their Own Injuries?
When we think about crashes involving motor vehicles and pedestrians, most people initially believe that the motorist is at fault since – it is assumed that – the pedestrian has the right-of-way. However, whether partly or entirely, there are cases when the pedestrian is actually at fault for the accident.
Common scenarios in which a pedestrian may be found partially at fault:
Jaywalking / crossing the street without using a crosswalk
Walking along highways or bridges, where pedestrian access is forbidden
Entering into the street while intoxicated or distracted
Pedestrians must still exercise reasonable care for his or her safety and others. The necessary care needs to be in proportion to the danger to be avoided and reasonably anticipated consequences.
If pedestrians fail to exercise this amount of care, contributory negligence can be used against them in a potential legal claim. California is a "comparative negligence" state, meaning that an injured individual's recovery of damages would be reduced by their own percentage of fault in causing the accident.
For example, if you were found to be 20% responsible for your accident as a pedestrian, your share of the compensation claimed would be reduced to 80% of the total. However, you can still recover a significant financial recovery, even if a jury finds that you were partially responsible for your own injuries.
Get Started on Your Case with a Free Consultation
At the Law Office of Marshall Silberberg, we don't back down in the face of insurance companies or drivers who may try to claim that you were solely responsible for your pedestrian accident. Your injuries may range from traumatic brain injury (TBI) to spinal cord damage to full-body paralysis, and these are simply not comparable to those sustained by most drivers in pedestrian accidents.
Our pedestrian accident lawyers in Orange County have recovered more than $500 million in settlements and verdicts. We uncover every stone in the pursuit of justice. We know how debilitating your injuries can be, and with almost 40 years of combined legal experience, our firm can fight on your behalf.
Get in touch with our pedestrian accident attorneys in Orange County to discuss your options in a FREE initial consultation. You can reach us at (949) 565-4281.